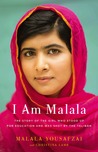 I Am Malala: The Girl Who Stood Up for Education and Was Shot by the Taliban by Malala Yousafzai
My rating: 4 of 5 stars
This is quite an astonishing family – especially Malala (of course!), but also her father. Through this biography, we get a sense of their dedication to the cause of education even in the face of grave danger.
Malala, and her beloved Swat Valley, faced – and still face – many dangers. She narrates a number of the troubles of Pakistan and Pashtun history. But the worst, it seems, is the Taliban infiltration of the valley. Starting with apparently benign aims of social improvement, the Taliban's presence in the valley became increasingly violent and uncontrollable. Malala's verbal pictures of external carnage and internal fear simply underline how extraordinary is her bravery in speaking up for education of all, especially girls.
And so the Taliban shot her. The injuries were serious, and her rehabilitation difficult for all. But you don't need me to recount the story of the book. The book is clear and speaks for itself. Instead of a re-listing, here are some impressions and thoughts from I am Malala.
This book successfully gives an outsider like me a feel for some of the history of India, Pakistan and Afghanistan. It's complex, but the amount of complexity recorded is just enough so I am not totally confused.
Through written with the help of an English journalist (Christina Lamb), Malala's voice comes through. This sounds like a teenager speaking – speaking well of serious matters, indeed, but still being herself. I'm glad this book does not sound like anonymous, anodyne reportage. Obviously Malala has a strong voice and Lamb is a good journalist.
The tone of this book is mature. It's not that blame is planted simplistically at the feet of just one or two actors. And even those who fail have moments of strength. For example, Malala's mentions of Pakistan's military – of which there are many – do not at all absolve them of culpability in Pakistan's turmoil. And yet there are also military personnel and structures credited with good and helpful activity.
Finally, showing my definite interest in matters of faith, Islam's place in the tapestry of Malala's story is fascinating. The presentation of Islam is a particular example of the book's qualities noted above: complexity and maturity. Malala is an observant and prayerful Muslim. The Taliban are also Muslim (there's none of the silly Western pretence that they're not) – but their expression of Islam is criticised from within the tent of Islam. Pakistan is notably a Muslim homeland, yet Malala wonders why this nation has harmed Muslims more than if there had not been a split between India and Pakistan.
I am very glad for the brave Mulsim activists I heard of in this book: Malala, her father, and a number of others. But I long also for there to be more Christians in Pakistan and the Islamic world. This is not because there's any greater deficiency in those people compared with others – but because of the greatness of Jesus whom Christians trust. The gospel of the Lord Jesus is needed in places of war, just as it is in places of complacent peace.